Reposting Instagram stories is a great way to keep your audience engaged and tell a larger brand story. It also helps you gain credibility through user-generated content. Reposting is a great way for your community to show their love.
However, it's not always easy to find the right answer to the question "How to repost an Instagram story?" You might have seen a story by someone you don't know, but you would love to share it. Or it could be a private account and your business friend forgot to tag you. It's possible to repost Instagram stories even when these situations exist.
These are quick hacks to help you repost your story even if it hasn't been tag.
How to direct repost a photo to your Instagram Stories
If you haven't tagged, it's not possible to repost another person's story. However, we will soon show you a workaround! The good news is that you can easily share someone's story feed posts on your own page. Click on the airplane beside the comment bubble to share a great post with your followers. You'll see a list of people that you can send the post to. Or, click on "Add post to my story" and you'll be in Instagram editing mode.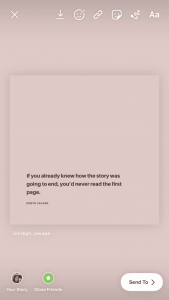 There are two options. You have two options. One, you can repost it in a minimalist-looking tale. Two, you can tap on an image to see a preview of your post and the beginning of the caption. It will tag the person whose content it is that you are resharing, regardless of which option you choose. It is possible to add a larger tag or a 'mention sticker'. It is a good idea, and the original account will be more likely to repost your post (so meta!)
This strategy can be used to repost your own feed posts to your story. You can do the same thing: just go to your feed post and tap on the little airplane icon to repost it in your stories. This is an easy way to increase your feed's reach and potential audience. Stories are more popular than feeds, so this is a great way to maximize the reach of your feed post.
How to post an Instagram story after you've been tagged
Tag, you're it!
You are proud to have been mentioned by a customer or brand in a story. If you are mentioned in a story or tagged, it will magically appear in your DM. Click 'Add post my story' to go to the stories editing mode. You can then reshare it. It's that simple!
However, there is one caveat: you cannot repost a story until the author's story is visible (within 24 hours). You'll need to be quick!
How to repost a story when you're not tagged
What about when you find a story that you like but are not tagged? Maybe you have a favorite story that you want to repost, but you don't know when — and you would like to add it to your content schedule at a later date.
Although stories are lost after 24 hours, you can still take screenshots. The process of taking a screenshot will vary depending on the smartphone you are using, but you can usually do it by pressing a button on your phone. The screenshot will be saved to your phone. 
If you have a brief video that you wish to keep, press the record button on your smartphone (depending on your device) and take a screen recording. Then, upload it as soon as it is clear. If you plan to use any of these strategies, you should DM the person whose content you are sharing to get their permission. It's also a good idea to tag them in your post!
How do you repost a story in your feed
What about when you have an Instagram story that is so amazing you want to immortalize on your feed? That's possible too! Simply go to your stories archive and select a story. Then click the three dots at the right. Next, click on 'share as a post'. This will open the photo editing tool and allow you to crop it to fit your feed. You can then add it to your grid along with any text or emojis.
How to maximize engagement on your story reposts
Reposting an epic story is one thing. You need to make your story unique in order to attract more attention and increase engagement. These are some of the ways to increase engagement with your story reposts.
–Targeted hashtags are: These can be added in your text or on the stickers 'hashtags' to attract people in your niche.
–Stickers: There are many ways to spark conversation about your stories, including the poll, the question sticker and the quiz.
Text: You can play with Instagram's new font selection to add more detail and depth to your story using text
–GIFS: These animated icons can be used to express your mood or add some interesting trappings to your digital design. With the Gif Editor from Motionbox, you can spice up your GIFs by adding text or subtitles. You also have the option to add elements that make your GIFS more engaging, such as shapes, backgrounds, audio, and video.
–Tag the original creator. Give credit where credit is due!
If you take a few minutes to jazz up your story reposts, it will do justice to the original creator and keep your community coming back!