Instagram accounts growth with GOSO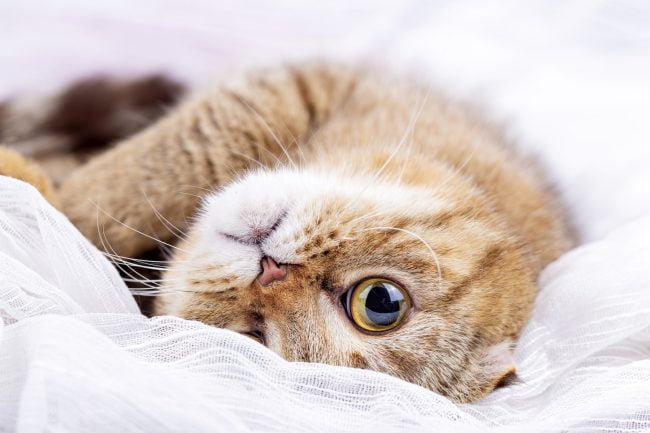 5 TIPS TO TURN YOUR PET INTO AN INFLUENCER ON INSTAGRAM!
Are you searching to make your pet a social media influencer? Look no further – I'm here with some tips and tricks on how to make your pet an influencer on Instagram!
Step 1: Decide on an appropriate name and handle
To create a successful pet Instagram account, it's essential to pick an eye-catching name and handle. Make it unique but easy to remember with elements from your pet's personality or breed in mind. Incorporate their name into their handle for added flair! This will definitely make your pet one of the cutest pet influencers on Instagram!
Step 2: Take the perfect shot
Instagram photos are the foundation of any successful account. Take time to capture your pet's personality in photos that look visually pleasing. Use good lighting and experiment with different angles to see what works best, then experiment with filters for added effect. This will matter as people will see how adorable your pets are, thus making them an instant pet influencer!
Step 3: Post Regularly
To keep your followers engaged, it's essential to post frequently. Try posting at least once a day or every other day; this will keep the content fresh and enable viewers to follow along on all of your furry friend's daily adventures. People love an active pet influencer on Instagram!
Step 4: Utilize Hashtags
Hashtags are an effective way to increase your pet's visibility on Instagram. Use relevant hashtags such as #petsofinstagram, #dogsofinstagram, or #catsofinstagram for maximum exposure. Alternatively, use niche hashtags related to your pet's breed, personality, or activities for even greater reach. Pet influencers use hashtags to optimize their reach.
Step 5: Connect with Your Followers
Finally, it is time for you to engage with those who follow you.
Engagement is the cornerstone of a successful Instagram account. Respond to comments and messages, as well as connect with other pet accounts in the community. Doing this will allow you to cultivate an online community of like-minded pet parents and boost your pet's visibility on the platform. Everyone loves a friendly pet influencer.
Step 6: Connect with other pet accounts
Collaborating with other pet accounts is an excellent way to expand your following and boost your pet's visibility on Instagram. Reach out to other owners in your community and see if they would be interested in working together on a post or story; it could be as simple as giving a shoutout or hosting a joint photo session.
Step 7: Express Your Creativity with Content
Keep your followers engaged by mixing up your content. Experiment with different types of posts, such as videos, stories, and boomerangs. Get creative with accessories, props, and outfits for your pet – but remember never to force them into wearing anything uncomfortable or unpleasant.
Step 8: Respect Your Pet's Individuality
Finally, stay true to your pet's personality by adhering to these eight steps.
Finally, you must stay true to your pet's personality. Instagram thrives on authenticity so don't try to mold them into someone else's image; let them be themselves and showcase their unique traits, quirks, and habits.
At the end of the day, people love a genuine pet influencer that they will forever adore.
Here you go! With these tips in hand, you can make your furry friend an Instagram star in no time. Happy posting!
Here are also the top 5 pet influencers on Instagram this 2023!
Jiff Pom is a well-known animal, having 26 million followers on various social media platforms. Jiffpom also holds the three-time Guinness World Record. Incredible how large this Pomeranian is. It also holds the title of 'animal with the most Instagram followers in 2017.
Tardar Sauce, a 5-year-old American feline, is known as the Grumpy Cat. Her grumpy face has made her an internet meme. This sad face is what made her famous and her owners extremely rich (from the merchandise). She was the spokesperson for Friskies pet food in 2013 due to her fame.
Nala, the Cat
Nala, the cat, was adopted from a shelter because her owners were unable to take care of her. She is a mixed tabby and 7 years old. She promotes brands such as PureVax, Friskies, and PureVax. Her total social media followers are 3.5 million. She is also worth 422,657 dollars from advertising alone.
Doug the Pug lives in Nashville, Tennessee. He is also a celebrity on social media. He has more than 6 million Facebook fans, 2 million Twitter followers, and 3.4 million Instagram followers. The 6-year-old dog has been featured in publications such as Cosmopolitan and BuzzFeed, Time, Huffington Post, and Time. He also appears in a Fall Out Boy music video. This is when you know that you have adopted him as your pet.
Tuna, a Chiweenie puppy aged seven years old, is Tuna. Tuna has over 1.9 million Instagram followers and over 2 million on all his social media accounts. This pet is extremely influential. Tuna has even published a book with his photos. The book was called "Tuna Melts My Heart".
Pet Influencer Growth statistics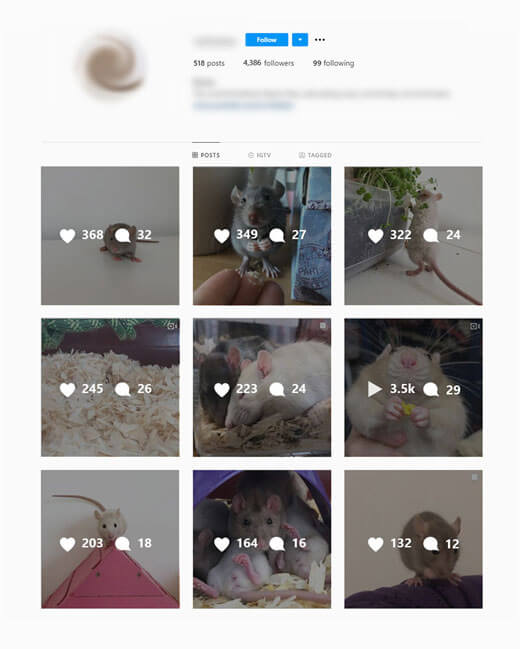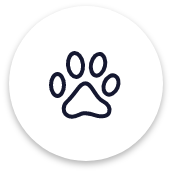 The owner of this adorable mouse increased her growth from about 1k in only a couple of months at a pretty steady and totally genuine-looking pace. She was very pleased with the results and hasn't stropped growing since.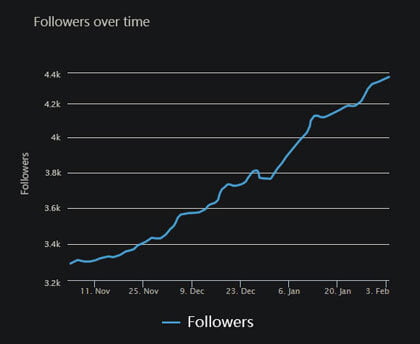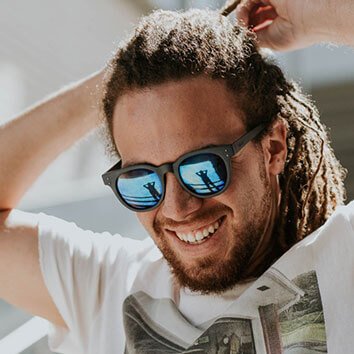 At
GOSO

 we always use real accounts and engagement to get you new followers or likes.
All followers are from real accounts that are interested in your niche.
What our clients
have to say
HAVE YOU SEEN
OUR INSTAGRAM SERVICES?
See all Instagram services here >
Any doubts? See how it works here >